How to Be Dressed in Readiness for Jesus – iBelieve Truth: A Devotional for Women
How to Be Dressed in Readiness for Jesus
By Lindsay Tedder
"Be dressed in readiness, and keep your lamps lit." – Luke 12:35
I could see it so clearly in my head as the words danced out of her mouth. Together, we sat at a table sipping Starbucks lattes. She shared her ideas with me about how she wanted her senior photos to look. "Picture this: me in a super long flowy dress, draped over the back of my horse at my grandparents' barn."
"Wow! Yes!" I said. My mind was racing with ideas for this photoshoot. I was imagining angles, lighting, and composition. I was a budding young photographer and very eager to photograph this for my young friend. She had a specific vision and I wanted nothing more than to deliver that vision to her. Plus, the thought of photographing something different than the typical senior style session was making my creative juices flow.
The day had finally arrived. The weather was perfect, my equipment was packed, and my batteries were charged. I felt thoroughly prepared to document some creative shots of this gorgeous young woman.
I ventured out to her grandparents' farm and unloaded my equipment. With my arms overloaded, Anna greeted me in the driveway with a running hug of excitement. As she was discussed her ideas and showed me her clothes for the session, she peered down at my feet and said with a chuckle, "Did you bring a change of shoes?"
A change of shoes? Why on earth would I need a change of shoes, I thought as I peered down at my flip-flops. I had no clue why my footwear selection was such a big deal. She laughed and said, "Girl, what in the world were you thinking?" I laughed too, awkwardly unaware as we began the trek to the barn.
But as I hit the mud, muck, and horse manure, I quickly realized why she laughed, and I immediately understood why country girls wore boots. With every step of my city-girl, flipflop-clad feet, I was forced to stand on my tippy toes in order to avoid sloshing the mud and muck all over my fresh pedicure. It was laughable.
I had charged my camera batteries. I had cleared my memory cards. I had packed my bags. I brought every reflector and extra equipment that I thought I could have possibly needed. Yet I was far from prepared.
The verse above says to be dressed in readiness. Now, I don't think God cares if we wear flip-flops or boots, but I do think He wants us to be prepared for the journey that He is going to lay out for us. You may not be able to know when God will call you to something but you can live a life that is dressed in readiness.
What would it look like if we were ready for His call all the time? What if we lived our lives with lit lamps, ready to shut out the darkness?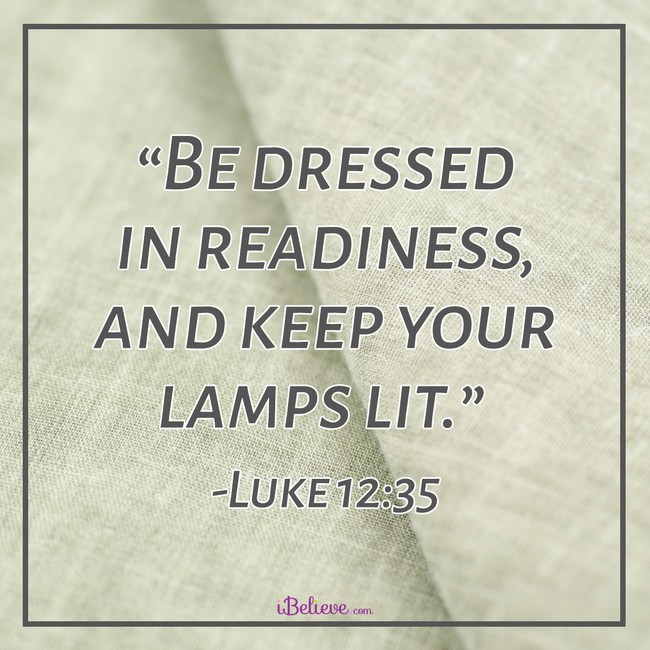 I all too often feel like I'm wearing flip-flops to the horse barn of my life. This leaves me exhausted from the extra effort it takes to do a seemingly simple task. But when I surrender my plans and my preparations to the One who is calling me to make the journey in the first place, only then can I be prepared for what He is establishing at my feet.
Surrender isn't a word that comes naturally to me. However, when I finally surrender my own plans, thoughts, and ideas, God comes in. He now has an audience that is listening instead of hindering.
Surrender your plans. Be dressed in readiness. Keep your lamp lit. And let Him show you the way to wander.
What do you need to surrender today?
---
Lindsay Tedder is a believer, wife, mom, bestie and writer who lives in Columbus, Ohio with her bearded, bourbon-loving husband and her too-cool-for-school toddler. Raised by a hardworking single mom, she overcame such trauma as sexual abuse-induced food addiction, the debilitating health issues associated with endometriosis, a decade of infertility, and recurring life themes of worthlessness. Despite it all, Lindsay is a ray of light, always sharing His love wherever she goes.
Want to grow in your character, career, calling, and community? We've got a podcast for you!
Are you ready to start tackling your goals? Have you been looking for a few helpful ways to reach them successfully? Join Courtnaye as she shares lots of practical tips that will help you accomplish your goals with a solid plan forward. Just click the play button below!
Click here to see the full list of Inside Out with Courtnaye episodes!