December Feast Days– Catholic Saints to Celebrate with Children
Printable Activities to Celebrate Saint Feast Days in December
Studying the lives of the saints and holy people helps build family faith and inspires Catholic kids. Feast days are an opportunity to remember and be inspired by the lives of the saints, who are examples of holiness for us today. Children and families in your Catholic religious education program can use the short biographies and printable activities below to celebrate popular saint feast days in December!
We've also bundled the biographies and activities featured in this article into a Catholic Saints with December Feast Days Resource Kit. This free resource kit can be downloaded and distributed in your school, parish, or home. Kit includes biographies and activities for:
Saint Nicholas of Myra

Saint Juan Diego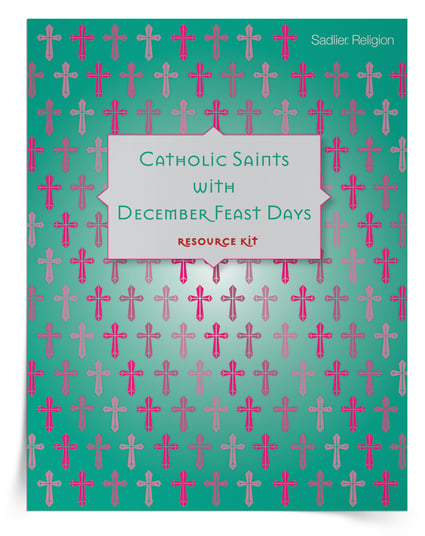 December Feast Day–Saint Nicholas of Myra
On December 6, the Church celebrates the feast day of Saint Nicholas of Myra.
Download an activity for the Feast of Saint Nicholas featuring the candy cane, a Christmas treat that is associated with this kindly, popular bishop.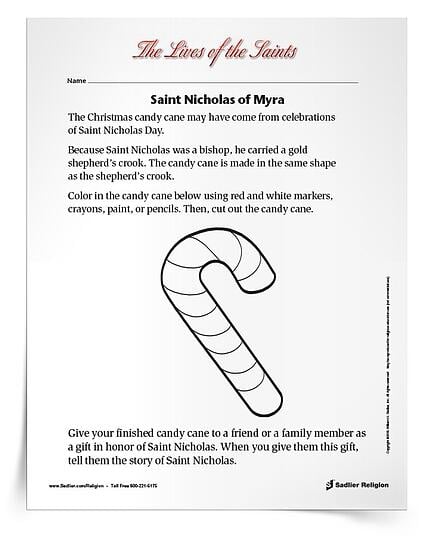 Life of St Nicholas 
Saint Nicholas of Myra is one of the most recognized saints in the world. He is honored as the patron saint of Greece and Russia. It has been speculated that besides Mary, the Mother of God, Saint Nicholas's image has been painted and drawn the most by Christian artists. Despite his popularity, we know almost nothing about Nicholas's life.
We know Saint Nicholas was the Bishop of Myra, a city on the southern coast of modern-day Turkey. Traditional accounts say that Nicholas grew up as the only son of devoted Christian parents. His mother and father died when he was young, and Nicholas inherited a large fortune. He decided to use this money to help the many people he saw around him who were in need. He also decided to perform these acts of charity quietly, even secretly, and not to brag about them. According to early accounts, the Holy Spirit inspired the clergy and the people of Myra to appoint Nicholas as their bishop because of his goodness and acts of charity.
Legends of Saint Nicholas abound. One of the most famous involves the kindly saint leaving bags of gold on the doorstep of a poor family, thus providing the daughters with dowries so that they could marry. Some stories say that he dropped that bag of gold down the chimney so that it would land on the hearth below. This was more than a matchmaking venture, but rather one that spared the impoverished girls from being sold into slavery.
Today, Saint Nicholas is known as a gift-giver all around the world. But we no longer think of "Saint Nick" as a kindly bishop. Over the centuries and across the continents, we now know "Saint Nick" as "Santa Claus." Saint Nicholas is an example of kindness and generosity for us today. This year, as we prepare for Christmas, we should remember Nicholas's quiet acts of selfless charity as we give our Christmas gifts.
The candy cane is a Christmas treat associated with Saint Nicholas. The distinctive candy cane shape is attributed to a 17th century German choirmaster, who bent the candy into the form of a shepherd's staff and gave it to children attending church services. The crook symbolizes the gentle image of Jesus, the Good Shepherd. As shepherd of his people, a bishop carries a hook-shaped staff called a crosier. Since Saint Nicholas was also a bishop, the candy cane serves as a perfect symbol for this patron and protector of children.